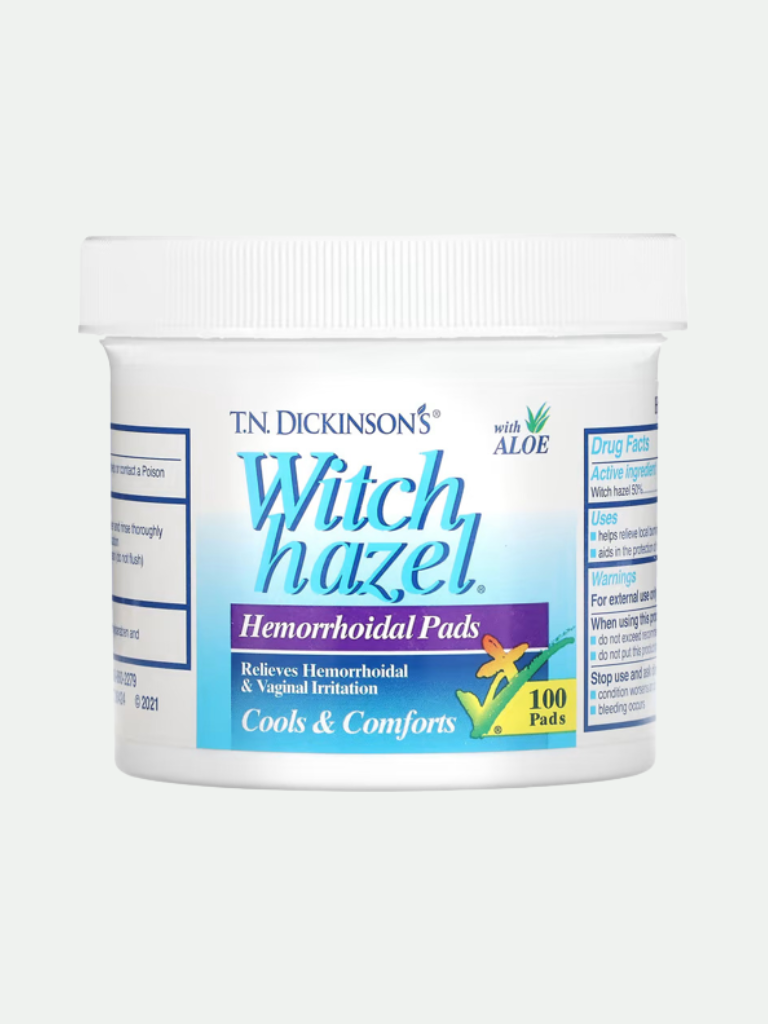 T.N. Dickinson Hemorrhoidal Pads, 100 Pads
Translation missing: en.products.product.price.regular_price
$8.24
Translation missing: en.products.product.price.sale_price
$8.24
Translation missing: en.products.product.price.regular_price
T.N. Dickinson Hemorrhoidal Pads, 100 Pads
Translation missing: en.products.product.price.regular_price
$8.24
Translation missing: en.products.product.price.sale_price
$8.24
Translation missing: en.products.product.price.regular_price
Product description
Shipping & Return
T.N. Dickinson Hemorrhoidal Pads, 100 Pads *
These extra-soft pads are saturated with natural witch hazel and Aloe Vera, two of nature's most powerful healing botanicals, to cool and soothe inflamed tissues. This formula also forms a temporary protective coating to reduce dryness and itchiness. Gentle enough to be used as often as desired for symptomatic relief of hemorrhoidal discomfort, as well as to refresh and cleanse delicate skin. Especially refreshing during menstrual periods or after childbirth. Cleanse, Soothe, Treat Relieves Hemorrhoidal & Vaginal Irritation Cools & Comforts Hypo-Allergenic Dye-Free Natural Fragrance Flushable. Safe for Septic & Sewer Systems Uses Helps relieve local burning, itching, and discomfort associated with hemorrhoids Aids in the protection of irritated or inflamed anorectal areas Hemorrhoids T.N. Dickinson's Hemorrhoidal Pads are extra soft and allow for the gentlest possible treatment of tender, inflamed hemorrhoidal tissue. Vaginal Care Can be used daily to freshen and cleanse. They are especially refreshing during menstrual periods. Hygienic Wipe Effective for everyday personal hygiene use on external rectal and vaginal areas. Baby Care is Recommended as a final cleansing step at diaper changing time. They leave a soothing, protective coating on the baby's sensitive skin. Moist Compress For additional relief from irritation of inflamed tissue. Can be folded and used as a compress. Particularly beneficial in relieving discomfort following childbirth, rectal or vaginal surgery. T.N. Dickinson's Hemorrhoidal Pads, moistened with Witch Hazel offer relief from itching, burning, and irritation caused by hemorrhoids. T.N. Dickinson's Witch Hazel has been recognized as a mild, natural, and effective astringent and cleansing aid for over a century. Using a time-honored distillation process, the therapeutic properties of Witch Hazel are captured to produce Nature's Gentle Ingredient for Personal Care.
* These statements have not been evaluated by the Food and Drug Administration. This product is not intended to diagnose, treat, cure, or prevent any disease.

All purchases over $69.00 qualifies for FREE SHIPPING, for all others under $69, we only charge a Flat Fee of $9.95 (Exclusions apply.)
We want you to be 100% satisfied with your purchase. Items can be returned within 30 days of delivery.